Lisbon, Portugal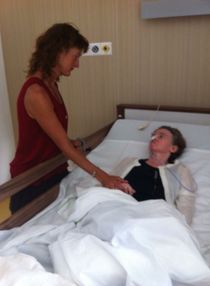 I connected with a woman who got a stroke a few years ago. After being in coma she never recovered and is now in a disabled body, far away from her kids, far away from her old life. Today I met her for the second time this week. This day is a special day. She moved from the old place to a brand new centre close to the house of her partner. Her partner can visit her now more often. It is wonderful to see the love they share. They have an amazing connection, she would follow him with her eyes wherever he goes. Her children don't visit her often as it is too painful for them to see their mother like this. She is in a wheelchair not able to walk and take care of her body. Nowadays she stopped eating and she gets gavage. And she stopped talking as well. 
I met her partner 6 weeks ago and he told me about his partner after I told him about Niek. Niek has been a great inspiration and teacher in my life, he was an enlightened young man in a disabled body. I was in his life for 10 years where I took care of his body and he of my heart and Spirit. 
My friend was fascinated by the story and interested in the work of Soulembodiment sessions for his wife. I felt a YES coming in my body and told him that I will visit him in a month when I head back to Portugal and we will have the chance to visit her. 
A skinny woman in a wheelchair with big eyes. Her body is small and collapsed and it doesn't show much expression. 
She didn't seem very connected with her body,
 but her eyes have a little glimpse, a glimpse of her Soul shining through. 
I spoke with her in English and she understood according to her partner, who can read her bodylanguage very well.
 I explained why I was here. That I wanted to share the work with her if her Soul is open for that. 
I started connecting with her body. I started to listen to what her body had to say and I voiced. With the voicing also movements came through my body. With the movement her body start to open and release a lot of tensions, frustrations, depression, pains. This first journey was more or less about taking out the lower energies. At the end of the session I brought her partner and her together to introduce a new way of  communication between them. A very deep silence and love was felt between them and a deep awakening started to unfold. By the end of the session she spoke several times.
The day after was intense. My body and the body of my friend was tired and constantly working as the session wasn't finished. 
I wanted to leave the next day, but I decided to extend one day so I had the oppertunity to do one more session. 
This day she was going to be moved to her new house. Her partner and me were in time waiting for her to arrive. My body finally got some rest and felt open and silent. My friend asked me 'do you feel her?' I said 'no, not right now, I am not connecting now.' In fact I was retreating a bit as I didn't feel like going through this intense process again. I felt a disbalance in my energy and body as well. I shared my thoughts about this and I dropped it for the moment. At that moment she arrived. 
She had to wait a while before she could enter her new room, shared with one other person. She came by ambulance and had one (garbage)bag of belongings, mostly clothes. I said to my friend 'this is the most easy moving I've ever seen. We all happen to collect so much stuff and this lady with her disabled body had nothing, only a bag of clothes.' 
We went to her new room and my friend was talking to the psychologist and social worker about her. At a certain point he left the room and I started working with her without him. She has a short term memory so I told her briefly what I was going to do. Her eyes were very focused on me and I felt her energy. We started to work, same as I always do. My body makes movements and I voice what I feel. The energy moves and the story unfolds.
 The session was beautiful. We had such a beautiful connection and this time we really could bring it to an higher level as much of the personality dropped out, she could receive herself in her full essence. She received her masculine part (the lost twin part, for women this is the masculine) beautifully and she was able to 'stand' on her own 2 feet. This supports herself and her relationship as well. 
Her full essence was merging and coming together in her body. 
'This is what you are, you are a true light being. Remember, you are not the body.' The wise words of my beloved friend Niek resonated very much and I said once more 'you are not your body' From this space we moved on and felt her essence and her abilities in this body and the possibilities with the life she has now. She has a great gift to share!
From Soul-to-Soul
From Heart-to-Heart
In deep wonder and in deep gratitude I connect with the beauty of the Soul! 
❤️
Her partner went to visit her the next day. She was still very tired as her body needs time to adjust and integrate the new energies and the higher frequency, but acceptance and understanding is there.  
Things changed for her (and him) immensely: 
- she spoke several times and even one sentence. 
- she communicated more visible by moving her head or closing her eyes.  
- she said she was hungry, which is a great sign of accepting her body and that she wants to feed it again. 
- She sat up straight and lifted up her head.  
- She is more in her body and more present.  
❤️
---